October 7 – November 14, 2020

A FOUR-DECADE RETROSPECTIVE: 6 PRESIDENTS
Florence presents forty of the collages she has created over the last 40 years about our last six American presidents: Reagan through Trump.

INLIQUID GALLERY
1400 N. American Street
Philadelphia, PA 19122
https://inliquid.org/spaces/inliquid-gallery/

Presidential Manipulations is part of "Satirical Candidacy," a two person exhibition, featuring the work of Philadelphia based artists Florence Weisz and Deanna McLaughlin. Through their use of rye humor and uncanny wit, the artists investigate candidates, policies, and our current state of world affairs.

Florence's art can be seen and purchased through ARTSY.net via InLiquid Gallery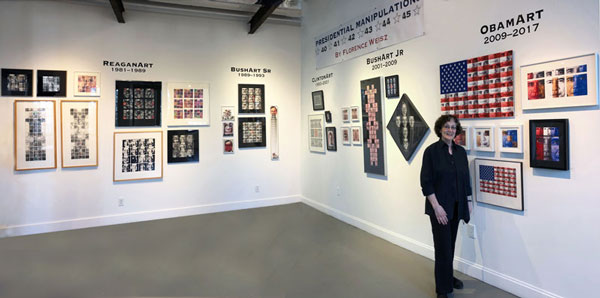 August 1- November 1 2020

"Creating A Voice, Speaking Out Against Social Injustice"

Virtual Exhibition
Philadelphia/Tri-State Artists Equity joins in solidarity with Black Lives Matter and all the growing anti-racist movements across the country https://www.artistsequity.org/creating-a-voice-1

September 2020

Florence created four new books available on BLURB.com
September 2020

"Artists in the Time of Pandemic"

ARTsisters Group Exhibition
On line at https://youtu.be/FbAuqa6wFFY
Florence's Trumpart: Shred Flag
seen on video 4:03 to 4:12

October 2018

"ARTIST READER WRITER II"

Florence exhibited "Trumpart Shred Flag" collage in shadow box

DaVinci Art Alliance
704 Catharine Street Philadelphia PA 19147
info@davinciartalliance.org





December 1 - 22, 2018

"PERENIAL VISIONS"

DaVinci Art Alliance Members Show
Florence exhibited "Trumpart: Fake News" collage 20" x 20"

DaVinci Art Alliance
704 Catharine Street Philadelphia PA 19147
info@davinciartalliance.org

DVAA provides artists with a community that fosters artistic expression and growth through our exhibitions and programs.





October 3-14, 2018

"ARTIST READER WRITER"
DaVinci Art Alliance, Philadelphia, PA

Here at DVAA we are very interested in nurturing artistic discourse. To do this, conversations must be had! This exhibition emphasizes the relationship between artworks in the form of pairs, one visual and one written.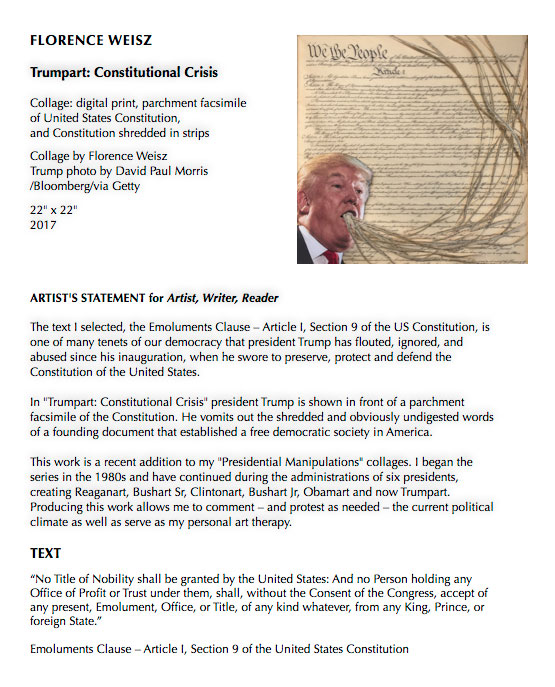 June 2017

"PRESIDENTAIL MANIPULATIONS"
SOMA (South Orange and Maplewood NJ) Studio Tour





Fall 2016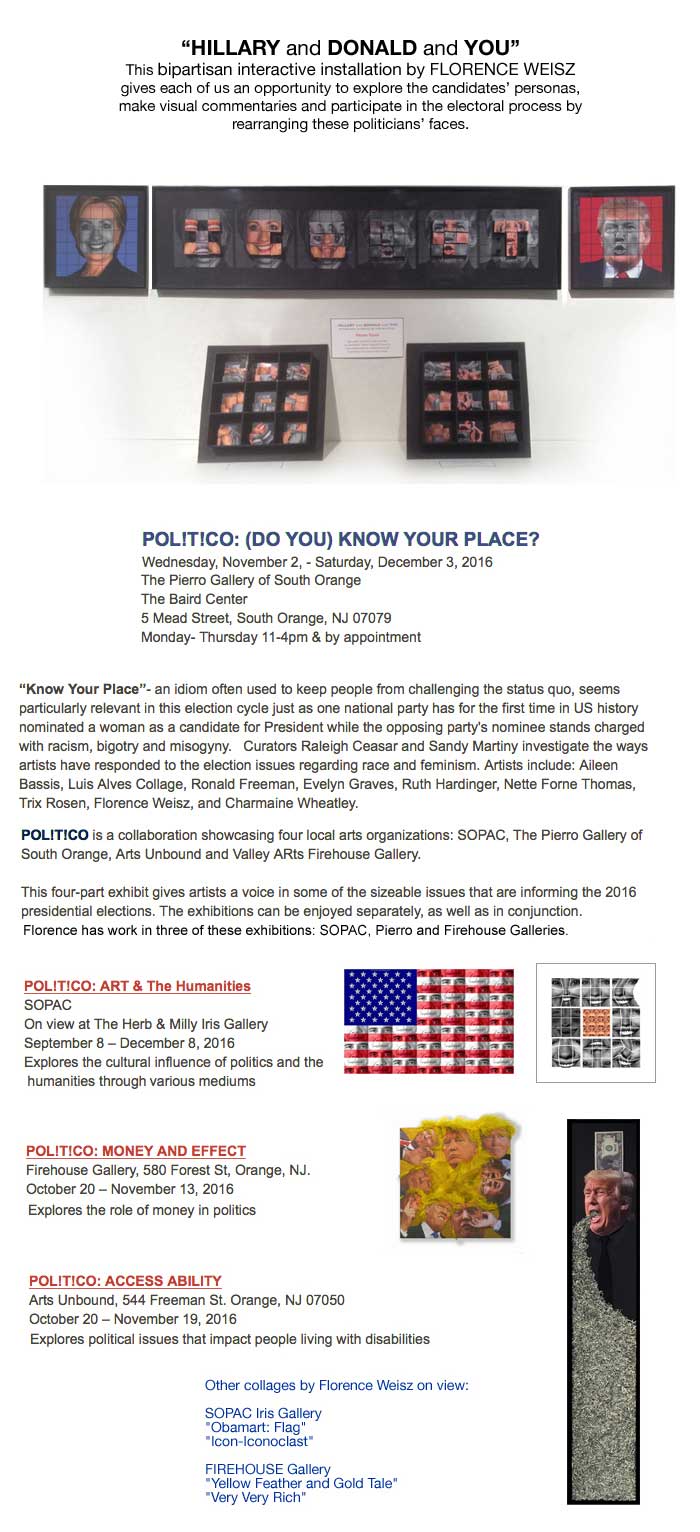 October 25 - November 22, 2009



"ESSEX EXPOSED 6"


A Juried Exhibition of Essex County Artists
Juror: Patterson Sims, curator, lecturer, writer

The Pierro Gallery
Baird Center
5 Mead Street
South Orange, NJ 07079

November 12, 7:30
PANEL DISCUSSION: What's Hot and Why?
Moderator: Patterson Sims
Panelists: Patricia A. Bell, collector; Beth Venn, Curator, Newark Museum;
Rupert Ravens, dealer; Tom Nussbaum, exhibiting artist

For more information and directions:
www.pierrogallery.org


June 8 - September 1, 2009



"PRESIDENTIAL MANIPULATIONS"


A solo exhibition of selected digital and xerographic collages from five U.S. administrations:

40 Reaganart 41 Bushart 42 Clintonart 43 Bushart 44 Obamart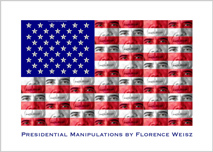 WALSH GALLERY LOUNGE
Walsh Library building open
Monday - Friday 7 a.m. - 5 p.m

Seton Hall University
400 South Orange Avenue
South Orange, NJ 07079

http://southorange.patch.com article


June 8 - July 23, 2009



"LILLIPUT: Tiny Art for Big People"


Florence's 1 inch miniature version of her "Obamart: Flag" was juried into this fabulous show of the tiniest artworks you have ever seen.
artslant.com article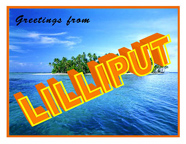 WALSH GALLERY
Seton Hall University
400 South Orange Avenue
South Orange, NJ 07079
Phone 973-275-2033
directions: http://library.shu.edu/gallery/visit.htm
information: http://library.shu.edu/gallery/current.htm


November 6 - 30, 2008



"IN THE NEWS"


Curated by Morley Safer of 60 Minutes
Florence exhibited two works from her Presidential Manipulations Series in an all media exhibition of works that interpret current and historic news events
The Pen and Brush
16 East 10 Street
New York, NY 10003
www.penandbrush.org