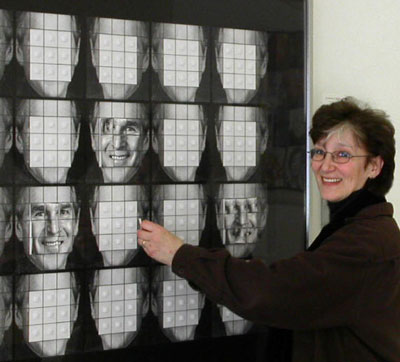 Florence Weisz creates artworks which combine organic imagery with geometric forms. The grid matrix she employs is an integral part of her creative process. Weisz has adapted her technique to many media including alcohol-based ink collage paintings, acrylic paintings on canvas, xerography, photography, ceramic tile murals and digital imaging. She specializes in creating new art for specific sites.

She has exhibited her art in the US, Canada, Europe and Asia. Her one-person shows have been at the Newark Museum, the Jersey City Museum, the New Jersey Center for the Visual Arts, the Pierro Gallery of South Orange at the Baird Center, Kent Place Gallery, Barron Arts Center, Johnson & Johnson World Headquarters, Chubb Corporation Gallery, John Harms Center for the Arts, the Fairlawn Library Gallery, Fairleigh Dickinson University and New Jersey City University galleries.

Weisz's work has been included in group exhibitions at the New Museum of Contemporary Art, Studio Museum of Harlem, Franklin Furnace, BACA Downtown, Pfizer Headquarters in New York, Katonah Museum, Mangel Gallery, Philadelphia, and the Reading Museum, in Pennsylvania; throughout the State of New Jersey including Aljira Gallery, City Without Walls, Walsh Gallery at Seton Hall University, Monmouth University Galleries, Tweed, Rabbet, the Printmaking Council, AT&T, Bell Labs, Nabisco, A.J. Lederman galleries, and the Morris, Monmouth, NJ State Museum, Trenton City, Jersey City, Bergen, Newark and Princeton University Museums.

Her paintings are in the collections of The New Jersey State Museum, IBM, The Port of Authority of NY and NJ, Citibank, Warner Lambert, Schering Plough, Gibraltar Securities, City Federal, Depfa Bank, Ciba-Geigy, Marriott Hotels, The University of Pennsylvania Hospital and E.I. du Pont de Nemours.

She has completed site-specific commissions for private homes, corporate and public spaces including, Chubb Insurance, PSE&G, Centocor, Merck Sharp and Dohme, Schering Plough HealthCare Products, Three Stamford Plaza and the Municipality of Beer-Sheva, Israel.

Florence Weisz studied in Paris and Jerusalem after earning a degree in Fine Art from Douglass College, Rutgers University. She is a recipient of a New Jersey State Council on the Arts Fellowship Award.