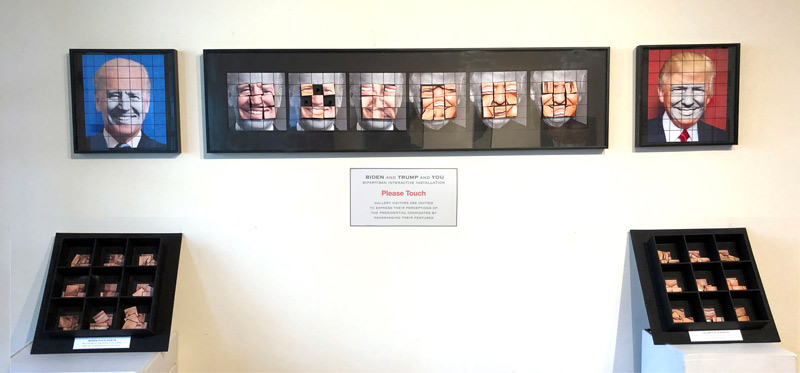 BIDEN and TRUMP and YOU


Bipartisan Interactive Installation
2020
Collage:
digital prints on paper,
Velcro loops and hooks
30" x 62"
height includes surface for "Face Part" Trays

Let's examine the candidates during the 2020 presidential campaign. I created this artwork to let us to go beyond the barrage of media analyses and give our personal input. This installation invites us to participate in the electoral process by engaging both candidates in a kind of visual debate...an interaction using the politicians' own features.

Compartmentalized trays provide square printouts of their nine individual facial features - eyes, nose, bridge of nose, mouth, cheeks, etc - each with Velcro hooks adhered to the back. Gallery visitors are encouraged to use these "face-parts" to express their attitudes toward the politicians: love 'em or hate 'em or something in between. We are encouraged to manipulate, rotate and combine the features of these familiar faces to create funny, sad, creepy versions in endless new permutations.